Latest News
Aganang Municipality Mayor Encourages Harry Oppenheimer Agricultural High School Learners to Achieve Well in Exams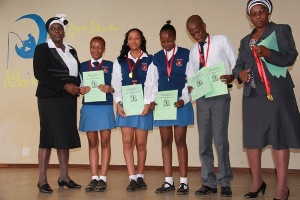 Her Worship Mayor, Cllr Maria Mokobodi congratulating Harry Oppenheimer Grade 12 learners during farewell function.
On Friday 17 October 2014, Aganang Municipality Mayor, Her Worship Cllr Maria Molahlwa Mokobodi spent her day with Grade 12 learners in Harry Oppenheimer Agricultural School. The Mayor, Cllr Mokobodi addressed the learners during the Matric Farewell and Awards giving ceremony. Aganang Municipality has been giving the school moral support and awards for its outstanding performance in the previous academic years.
Read More...

---
IDP/Budget Review Process Plan Stakeholder Notification 2014


Khantshele ya Masepala wa Aganang ka tulo ya yona kala di 25 Agostose 2014 e fetisitse tsela yeo ka yona e ilego go lekola-leswa tokomane ya Lenaneotlhabollo le ditekanyetso tsa Masepala (IDP/Budget Review Process Plan 2014/15).

Se ke go ya ka Molao wa Municipal System le Municipal Finance Management wa 2003. Lona lenaneo le le akaretsa Di-imbizo, Dikopano tsa di ward, IDP Representative Forums bjalo bjalo.
Read More...

---