Latest News
Aganang Local Municipality Honored 67 Minutes Of Mandela Day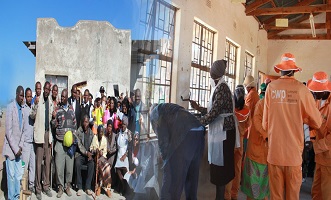 All gathered in the name of Tata Nelson Mandela's birthday

Aganang Local Municipality in partnership with Matlala SAPS and Department of Social Development (SASSA)honored International Mandela Day on 18 July 2014.Her Worship Mayor, Cllr Maria Mokobodi joined the world in honoring Tata Mandela's legacy by helping elderly Koko Christina Mabela aged 96 years old. Koko Mabela's house and yard were cleaned as part of 67 Minutes of Mandela.Koko Mabela was pampered with food parcels and blankets as the municipality persuaded Mandela's love for the elderly persons. Her Worship Mayor, Cllr Maria Mokobodi and Sunbake donated food to 24 indigent families in Lonsdale village as part of 67 Minutes of Mandela Day.

Tata Mandela's love for children and education was revived by Aganang Local Municipality in Fairlie village. Dilapidated Diakganya Primary School was renovated by Her Worship Mayor, Cllr Mokobodi into a new building as part of 67 Minutes. Read More...

---
MISSION
To provide integrated quality services to all our communities through community participation, good governance, efficient administration and local economic development.


VISION

A unified and effective municipality with sustainable quality of life for all.


Download Files
NOTICES
ADVERTISEMENT OF BID