Latest News
Aganang Muinicipality Consulted Departmental Stakeholders on IDP Plans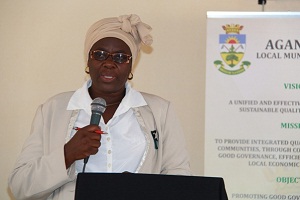 Her Worship Mayor,Cllr Maira Mokobodi tabling Aganang service delivery status quo
Aganang Local Municipality again reaffirmed its commitment to service delivery to the people during the 1st IDP Representative forum in Ga-Seema hall. The forum was for the municipality to present the status quo of the service delivery in the municipality, challenges and intervention plan that are in place to deal with any identified challenges. Aganang Municipality serves around 105 villages under four traditional leaders. The presentation was attended by various stakeholders including Government Departments, Non Profit Organisations, Community Organisations, Entrepreneurs, Farmers and Traditional Leaders.
Read More...

---
Aganang Municipality Mayor Encourages Harry Oppenheimer Agricultural High School Learners to Achieve Well in Exams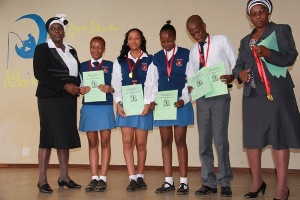 Her Worship Mayor, Cllr Maria Mokobodi congratulating Harry Oppenheimer Grade 12 learners during farewell function.
On Friday 17 October 2014, Aganang Municipality Mayor, Her Worship Cllr Maria Molahlwa Mokobodi spent her day with Grade 12 learners in Harry Oppenheimer Agricultural School. The Mayor, Cllr Mokobodi addressed the learners during the Matric Farewell and Awards giving ceremony. Aganang Municipality has been giving the school moral support and awards for its outstanding performance in the previous academic years.
Read More...

---