Latest News
Congratulation to Matric Class of 2014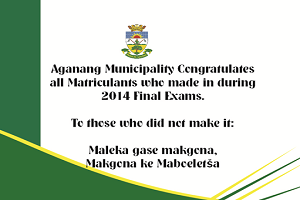 Her Worship Mayor of Aganang Municipality, Cllr Maria Mokobodi congratulates all Matriculants who made it through 2014 Matric Final examinations. Matriculants worked hard from the beginning of 2014 to the end and this is the greatest moment for them to finally see what they have achieved. "This is the beginning of your academic life. With respect, hard work, patience, vision and determination, three to four years from now you will be shining on your academic regalia celebrating University of College achievements"
Read More...

---
Aganang Municipality celebrate New Year with babies

On the 1st of January 2015, Aganang Municipality spend several hours at Knobel Hospital celebrating and welcoming new born babies. Her Worship Mayor, Cllr Maria Mokobodi was Christmas Day and New Year's Day. On Christmas 3 babies were given birth at the hospital, 2 girls and 1 boy. On the New Year's Day 8 babies were born.
Read More...

---