Struggle Veterans Urge Aganang Youth to Respect their Elders in Honour of Madiba `s Legacy in Memorial Lecture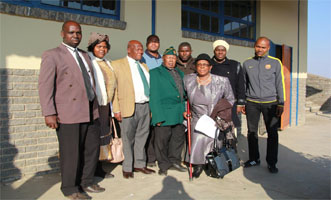 Aganang Municipality Lectured Tata Mandela`s Legacy in Maribana Hall (front row): Mayoral Executive Committee Members, cllr Steven Phaka, cllr Lisbeth Mothata ,Veteran Morris Matsemela ,Veteran Ike Maphoto, the Speaker, cllr Mary Dikgale (back row):Manager, Office of the Mayor, William Mathekgane, Ward 03 Councilor, Cllr Kanono Kganyago, Her Worship Mayor, Cllr Maria Mokobodi and Senior Risk Officer, Vincent Masoga.

Aganang Local Municipality held the first ever Nelson Mandela memorial lecture to educate and honour the world icon`s legacy at Maribana hall in Ward 03.The lecture targeted Aganang born-frees who never experienced the taste of apartheid regime. The memorial lecturing was delivered by Veteran Ike Maphoto and Veteran Morris Matsemela who are the sons of Aganang soil.Acting Mayor of the day, Cllr Lisbeth Mothata appreciated the municipality for having high ranking people who fought against apartheid and liberated South Africa to be a better place in 20 years of democracy. " We are proud to have selfless leaders and other struggle veterans who serve as our pillars in sharing Mandela`s history with our youth as a way to let Mandela`s legacy lives", she said.
Read More...

---