Latest News
AGANANG MAYOR AND MEC OF TRANSPORT OFFICIALLY LAUNCHED AGANANG TRAFFIC STATION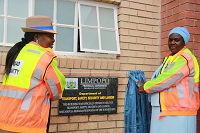 The newly-well equipped Aganang traffic department was officially opened by Her Worship Mayor, Cllr Maria Mokobodi and the MEC of Transport Mapula Mokaba Phukwana. The station which is fully fitted with state of the art equipment will serve the community in full.
Read More...

---
AGANANG HOST A SUCCESSFUL 2015 MAYOR'S MARATHON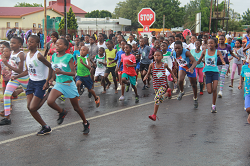 The 2015 Mayor's Marathon was held in a cloudy and rainy weather which favored the participating athletes by saving them from dry and hot temperatures that are usually being experienced in Aganang.
Read More...

---
MAYOR EASTER ROAD SAFETY CAMPAIGN 2015

Polelo ya Masepala wa Aganang ka Mohlomphegi Meyara, Cllr Molahlwa Mokobodi Presentation of MEC of Transport and Safety and Security and liaison
Read More...

---