Latest News
AGANANG MUNICIPALITY CELEBRATES OLDER PEOPLE`S MONTH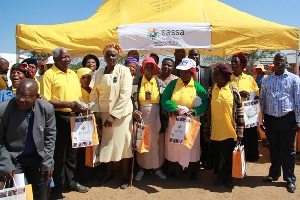 Her Worship Mayor, Cllr Maria Mokobodi pampering Fairlie elders with love
October month have been selected nationally as a month to celebrate the lives of older people in South Africa. The day is mostly characterized by activities meant to empower the elders or to give them encouragement for the role they play in the society. This was also the order of the day when Aganang Local Municipality celebrated older people's month on the 21st of October 2014 at Lesedi Fairlie elderly centre.
Read More...

---
Aganang Municipality Mayor Encourages Harry Oppenheimer Agricultural High School Learners to Achieve Well in Exams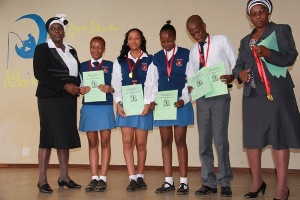 Her Worship Mayor, Cllr Maria Mokobodi congratulating Harry Oppenheimer Grade 12 learners during farewell function.
On Friday 17 October 2014, Aganang Municipality Mayor, Her Worship Cllr Maria Molahlwa Mokobodi spent her day with Grade 12 learners in Harry Oppenheimer Agricultural School. The Mayor, Cllr Mokobodi addressed the learners during the Matric Farewell and Awards giving ceremony. Aganang Municipality has been giving the school moral support and awards for its outstanding performance in the previous academic years.
Read More...

---