Latest News
AGANANG POLITICAL MANAGEMENT RESTORES PEACE IN WARD 17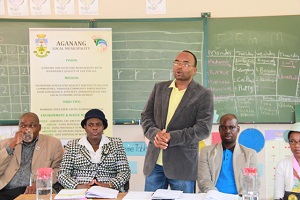 The Chief Whip, Cllr Malesela Teffo and Her Worship Mayor, Cllr Maria Mokobodi listening the Municipal Manager, Ramakuntwane Selepe tabling Madietane progress report of service delivery, Ward 17 Councillor, Cllr Stephen Phaka listening.

The Political Management Team (PMT) and Senior Management attended Madietane community meeting on 21 February 2015.The meeting was a follow-up meeting to provide feedback to the community regarding service delivery concerns raised in the meeting attended on the 20 December 2014.Ntona Moabelo appreciated the municipality for listening to their concerns and providing feedback as promised in the previous meeting. "Letís respect our leadership for giving us an opportunity to listen to our grievances when we called them to come to Madietane people", said Ntona Moabelo.
Read More...

---
AGANANG MAYOR, HER WORSHIP, CLLR MARIA MOKOBODI CALLS ON YOUNG PEOPLE TO ABSTAIN AND CONDOMISE IN CELEBRATING INTERNATIONAL STI & CONDOM WEEK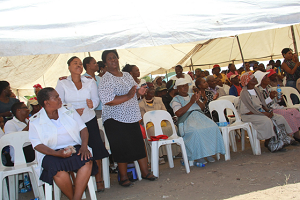 Kolopo residents and department of health celebrated STI & Condom Week in Percy Clinic

Aganang Local Municipality commemorated STI & Condom Week on the 13 February 2015 at Ga-Kolopo Village at Percy Clinic. This formed part of national wide campaign to raise awareness on Sexually Transmitted Infections.
Read More...

---