Embracing the spirit of Madiba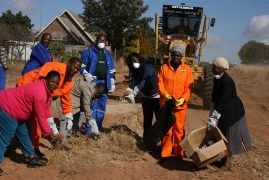 Her Worship, Mayor of Aganang Local Municipality, Cllr Maria Mokobodi joined by Councillors, Officials, Magoshi, SAPS, sector departments and the community at large were involved in a Cleaning Campaign

The campaign, held under the theme "Working together to build a caring society", was also part of the build-up to the Nelson Mandela International Day

The targeted villages were Mandela and Maune in the Mashashane area, a part of the municipality's contribution at fostering the spirit of Mandela by dedicating 67 minutes to doing something good whilst promoting a cleaner environment.

There was also grading of internal streets at Mandela village; this was also more significant as the village is named after the former South African President. Aganang Mayor, Cllr Maria Mokobodi thanked Tata Mandela for his bravery and dedication to the liberation of the oppressed. "We must ensure that we sustain Madiba's dream for a united South Africa where all races live in harmony. We must also ensure that we deliver basic service like clean water, electricity and sanitation to our people to honour his immense contribution", Mokobodi said. She also thanked all present for heeding the call to celebrate the life of Madiba. Magoshi also sang praises of the elderly former statesman and thanked the municipality for seeing it worthwhile to celebrate Madiba, an ambassador of reconciliation and peace. Ntona Malose Mokonyama of Mandela village said the grading of internal streets was a timely and welcome intervention.